Grand - Exceptional quality at the best prices
Trust the real leader in the cardboard & packaging production industry!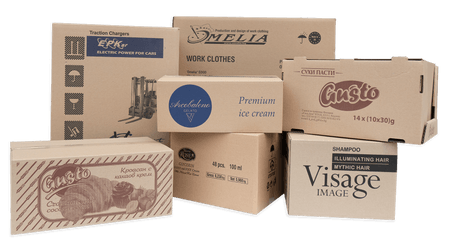 Why choose Grand?
Creativity
The aesthetics and good appearance of each product are of great importance and we make sure that your packaging looks perfect
Reliability
We are a long-term leader in the production of corrugated and cardboard packaging and work with a quality management system.
Flexibility
Having our own production base allows us to produce all kinds of cartons and cardboard packaging to fit perfectly your needs
We offer
Offset printing
Offset printing today is the most common method of printing large runs (you can print literally anything).
Flexographic printing up to 4 colors
Flexo stamping is applied on transport packages made of corrugated cardboard. We will print your logo on the package in up to 4 colors.
Production of luxury packaging
With us you can be sure that your product will receive innovative and high quality packaging that emphasizes your brand.
Laminating and punching
Laminating is a technology that attaches 2-layer corrugated cardboard to the cardboard box to give the necessary strength to the prints and design.
Foiling and palletizing
We will pack your products in bundles and they will be foiled and palletized in the most convenient and easy way for you.
Transport and Logistics
Our company has two semi-trucks, a solo truck and a 3.5 t bus. with which we will deliver your products. We also offer transportation services.
You have questions?
For questions and comments of any kind, do not hesitate to contact us by clicking the button below.